Once the payment is approved on our end and the cryptocurrency is sent out to the wallet address used in the transaction, you will receive an automatic email informing you about this.

This email is sent from "support@simplex.com" and contains the subject "Did you receive your cryptocurrency? Please confirm".
In rare cases, this email might land in your spam, trash/junk folders, thus we suggest checking them as well.
An example of this particular email: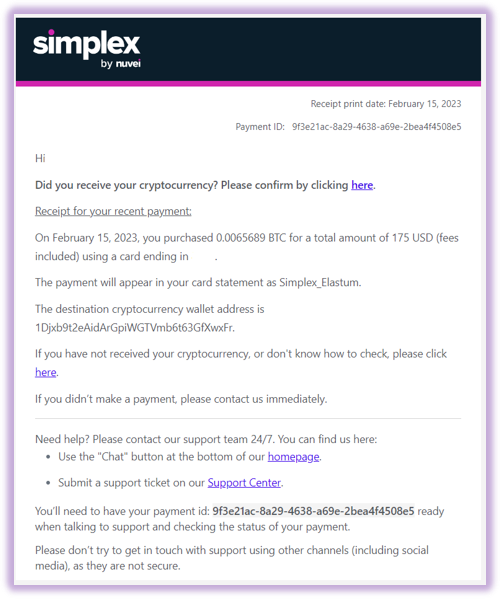 This confirmation email contains details, such as the date of the transaction, the exact payment ID, the amount of cryptocurrency bought and the amount of fiat currency spent for the purchase, as well as the last 4 digits of the card that was used.
Additionally, there is also the destination wallet address, to which the coins were sent and an option to confirm the delivery.

If you can not see the coins in your wallet after receiving the email, there is an option you may click.
It will redirect you to an article with a video, explaining how to check the status of the transaction on Blockchain Explorers.
If you are still not sure and need assistance, please feel free to reach out to us 24/7 via our live chat at www.simplex.com or by submitting a ticket.